International, Interdisciplinary and Intersectoral Information and Communications Technology
Congress for young researchers in ICT area to share their work in a collaborative atmosphere
El 1 y 2 de febrero las investigadoras Ana López-Cheda, Beatriz Piñeiro, Naomi Diz, Amalia Jácome y Graciela Estévez participaron en las Jornadas de Abiertas de la Facultad de Ciencias de la UDC con dos actividades relacionadas con el cálculo de probabilidades.
Read More »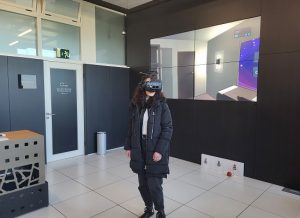 Esta mañana el CITIC recibió la visita de un grupo de 13 estudiantes de bachillerato y dos profesores del IES Marqués de Sargadelos de San Cibrao (Lugo).
Read More »
El pasado martes, 31 de enero, tuvo lugar en el IES Miraflores de Oleiros otra sesión sobre Ciencia Datos dirigida a alumnado de 1º de bachillerato del centro que participan en el programa STEMbach de la Xunta de Galicia. En esta ocasión, impartieron la sesión los investigadores del CITIC Ricardo Cao e Inés Barbeito.
Read More »
WE PROMOTE R&D APPLIED TO ICT


Four research areas: Artificial Intelligence, Data Science and Engineering, High Performance Computing, Intelligent Networks and Services, and one cross-disciplinary stream: Cybersecurity.
Active R&D&I Projects / year