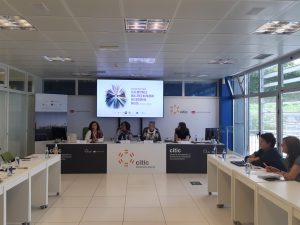 El encuentro está enmarcado en un proyecto más amplio que analiza el papel y funciones de las mujeres en el mundo editorial gallego desde el año 1975 hasta el 2000, dirigido por la profesora Carme Fernández Pérez-Sanjulián. El CITIC desarrollará el sistema de información del proyecto, integrando una base de datos y un buscador a un catálogo informatizado de mujeres con actividad en el sector editorial de Galicia.
Read More »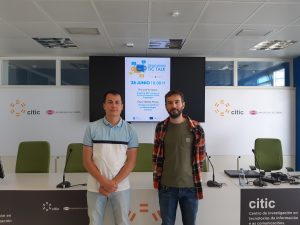 Este martes 28 de junio se celebró la cuarta sesión de los Desayunos TIC Talk, un ciclo de reuniones que tiene la finalidad de compartir la investigación realizada en el CITIC en un ambiente informal. En este encuentro, los investigadores Elmurod Kuriyozov y Óscar Ibáñez, que se han integrado recientemente en el CITIC, explicaron sus líneas de investigación al personal del centro que se encuentra en las primeras etapas de su carrera investigadora, introducidos por David Vilares, miembro de la comisión de formación.
Read More »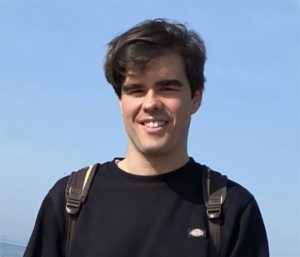 El investigador del CITIC Íñigo Luis López-Riobóo ha sido premiado por el Colexio Profesional de Enxeñaría en Informática de Galicia (CPEIG) con el Trabajo Fin de Máster en Ingeniería Informática, por el TFM titulado "A Deep Learning Approach to Predict Users' Preferences Based on Textual Reviews". Recibirá el premio en la gala de la XIV Noite da Enxeñaría Informática de Galicia, que se celebra el próximo viernes 1 de julio en Santiago de Compostela.
Read More »
WE PROMOTE R&D APPLIED TO IC


Four research areas: Artificial Intelligence, Data Science and Engineeing, High Performance Computing, Intelligent Networks and Services, and one cross-disciplinary stream: Cybersecurity.
Active R&D&I Projects / year