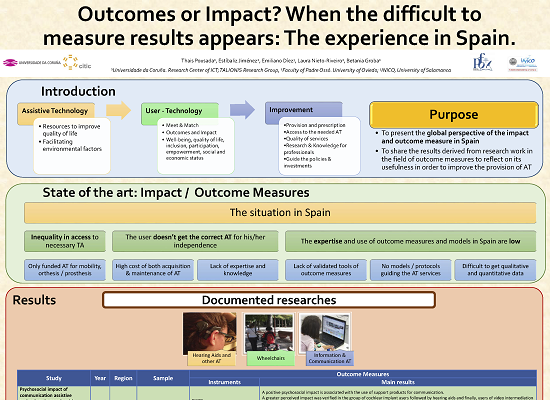 Thais Pousada participa en el Congreso Anual de la RESNA
La investigadora del CITIC Thais Pousada participó en el congreso anual Rehabilitation Engineering and Assistive Technology Society of North America (RESNA), que se celebró de forma totalmente online los días 23 y 24 de septiembre. En él se dieron cita multitud de profesionales de diferentes disciplinas y usuarios relacionados con el ámbito de la tecnología de apoyo dirigida a personas con diversidad funcional.
Este encuentro internacional es un punto de referencia para compartir las novedades en la evidencia científica y nuevos desarrollos de innovación tecnológica en este campo.
Thais Pousada presentó, junto a compañeros de la Universidad de Salamanca y de la Universidad de Oviedo, el background sobre la aplicación de las herramientas de medida de resultados en productos de apoyo en España ("Outcome or Impact? When the difficult to measure results appears: the experience of Spain"). En este trabajo también han participado las investigadoras del CITIC Laura Nieto Riveiro y Betania Groba. Esta contribución formó parte de un simposio específico, gestionado por la Global Alliance of Assistive Tecnology Outcomes (GAATO).
La contribución se puede consultar online y próximamente se publicará en la revista presentada por el evento.