Carlos Gómez asiste en Uzbekistán a una reunión del proyecto Erasmus+ Class que coordina en la UDC
El investigador del CITIC Carlos Gómez se encuentra estos días en Taskent, capital de Uzbekistán, asistiendo a una de las reuniones de coordinación periódicas del proyecto Erasmus+ CLASS de cual es coordinador por la UDC.
El proyecto Erasmus + Class Development of the interdisciplinary master program on Computational Linguistics at Central Asian universities, en el que participan 12 universidades europeas, tiene como objetivo ayudar a universidades de Kazhakhstán e Uzbekistán a desarrollar sus propios másteres interdisciplinares en lingüística computacional.  
Las universidades europeas que participan en Erasmus Class son, además de la UDC y la USC, que lidera la iniciativa, la Universidad de West Attica (Grecia), la Universidad de Porto (Portugal) y la Adam Mickiewicz University de Poznan (Polonia). Por su parte, participan cuatro universidades de Uzbekistán (Urgench State University, Samarkand State Institute of Foreign Languages, Tashkent State University of the Uzbek language and literature e The National University of Uzbekistan) y tres de Kazajistán (A. Baitursynov Kostanay State University, L.N. Gumilyov Eurasian National University y Al-Farabi Kazakh National University).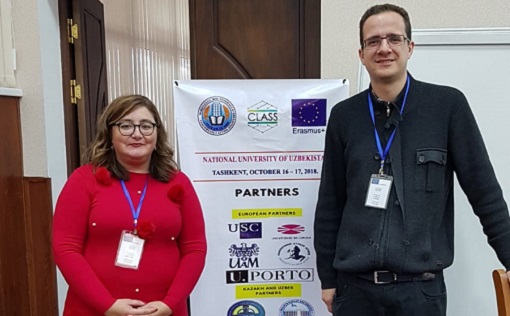 Carlos Gómez, investigador UCD-CITIC y Mª Begoña Crespo, investigadora da área de Filología Inglesa da UDC