El CITIC viaja a Florencia para asistir al ICT Proposers' Day Europeo
Se trata de uno de los encuentros más importantes en el marco de H2020, una gran oportunidad para consolidar consorcios europeos entre centros tecnológicos y de investigación, grupos de interés industrial, empresas y actores gubernamentales de toda Europa.
Tres representantes del CITIC asistirán a ponencias trasversales, presentarán propuestas en distintos ámbitos y se entrevistarán con más de 20 entidades europeas.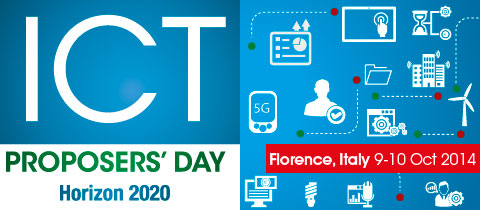 Los próximos días 9 y 10 de octubre tendrá lugar en Florencia, Italia, el ICT Proposer's Day, un evento de networking organizado por la Comisión Europea en colaboración con la presidencia italiana de la UE, la Región de La Toscana, el Municipio de Florencia y la Universidad de Florencia. 
El CITIC será una de las 79 entidades participantes procedentes de España –participan 822 de toda Europa- que asistirán al encuentro, que se centrará en el programa de trabajo de Horizonte 2020 en el ámbito de las Tecnologías de la Información y las Comunicaciones para el año 2015. El ICT Proposers' Day ofrece una oportunidad única para establecer importantes consorcios europeos, ya que pondrá en contacto a centros tecnológicos y de investigación, grupos de interés industrial, empresas y actores gubernamentales de toda Europa. 
La posibilidad de buscar posibles socios o sinergias para proyectos de cambio está servida en el ICT Proposers' Day. Dos días de charlas informativas, stands sobre próximas convocatorias europeas, sesiones de networking de acuerdo a los pilares y temas del programa de trabajo de 2015, espacios para reuniones bilaterales, talleres, etc. 
Por parte del CITIC, asistirán al ICT Proposers' Day Bertha Guijarro Berdiñas, Vicecoordinadora Responsable Científica del centro, Marta Núñez, Responsable de la Oficina de Proyectos y Calidad, y Manuel F.G. Penedo, Responsable del Área Tecnológica de Procesado de Imágenes Digitales. Más de una veintena de entrevistas con entidades de toda Europa -empresas, universidades y centros tecnológicos TIC o Clusters-, procedentes de Irlanda, Reino Unido, Francia, Holanda, Alemania, Repúblicas Bálticas, República Checa, Malta y Chipre, les esperan. 
Además, asistirán a ponencias transversales sobre Proposal Making, Finantial Support e International Cooperation. El CITIC pondrá sobre la mesa entre 4 y 5 propuestas de los ámbitos del Big Data, Teaching and e-learning technologies, Health and wellbeing-PHC, HPC – FET open y Security. El ICT Proposers' Day dispone de un completo programa que se puede consultar aquí. ¿Qué otros topics interesan al CITIC?
DS-4-2015: Information driven Cyber Security Management
EU-Brazil Research and Development Cooperation in Advanced Cyber Infrastructure
H2020 Proposal making
ICT 14 – 2014: Advanced 5G Network Infrastructure for the Future Internet
ICT 16 – 2015: Big data – research
ICT 20 – 2015: Technologies for better human learning and teaching
ICT 30 – 2015: Internet of Things and Platforms for Connected Smart Objects
PHC 30 – 2015: Digital representation of health data to improve disease diagnoses and treatment
Put Innovation at the core of your Proposal
SCC 1 – 2014/2015: Smart Cities and Communities solutions integrating energy, transport, ICT sectors through lighthouse (large scale demonstration – first of the kind) projects
Si quieres más información sobre el ICT Proposers' Day, no dudes en visitar su página oficial.