Las conclusiones de la competición eRisk se presentarán en la CLEF 2017 en Dublín
Los resultados de la competición "Early risk prediction on the Internet: Experimental Foundations" organizada por los investigadores Javier Parapar ( CITIC de la UDC), David E. Losada (USC) y Fabio Crestani (University of Lugano) serán presentados en la "Conference and Labs of the Evaluation Forum" (CLEF 2017) que tendrá lugar en el Trinity College de Dublín del 11 al 14 de septiembre.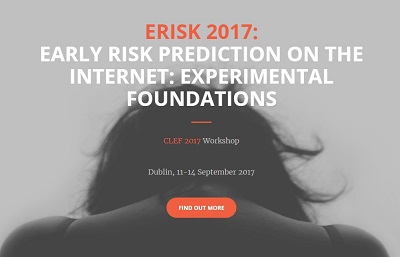 Las conclusiones extraidas de la competición son potencialmente aplicables a una amplia variedad de situaciones y a muchos perfiles personales diferentes como pedófilos potenciales, acosadores, individuos que podrían caer en manos de organizaciones criminales, personas con inclinaciones suicidas o personas susceptibles de padecer depresión.
En la CLEF 2017 también se abordarán otras cuestiones del ámbito de la evaluación multilingüe y multimodal del acceso a la información y se celebrarán talleres centrados en dichas temáticas.