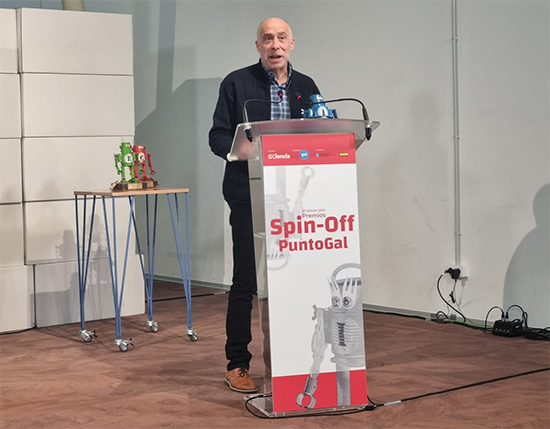 The group led by CITIC researcher Carlos Dafonte, awarded in the VII edition of the SpinOff PuntoGal awards
The CITIC research group led by CITIC researcher Carlos Dafonte, Laboratorio Interdisciplinar de Aplicaciones de la Inteligencia Artificial (LIA2), has received the award in the category of Research Groups in the VII Edition of the SpinOff PuntoGal awards. This award distinguishes the most innovative companies and groups in the Galician economy and research network. Carlos Dafonte, coordinator of the research group, collected the award this Friday, October 10th at the Fontán Building of the Cidade da Cultura.
The jury decided last Tuesday, October 17, to give them this award because of the great interest of the projects they are developing, they evaluated very positively the presence of women in the team and the actions they are carrying out to promote social inclusion. The committee was formed by Edita de Lorenzo, Irene Bonome, Sonia Martínez Arca, Maria Xosé Malmierca and Andrea Muras. Luis Antelo (PuntoGal) and José Luis Estévez (GCiencia) acted as secretaries of the jury, without voice or vote.
The awards, organized by GCiencia with the sponsorship of PuntoGal with the collaboration of the General Secretariat of Universities of the Xunta de Galicia and Gadis, aim to recognize the transfer of knowledge between the University and the company and to promote the recognition that arises from research groups. The SpinOff PuntoGal call is divided into three categories: Emerging Idea, Research Groups and Quality Seal. In total, three candidates participated in the Research Groups category, another three in the Emerging Idea category and seven in the Quality Seal category.
In the Quality Seal category, Hifas da Terra, a biotechnology company from Pontevedra, was recognized, and in the Emerging Idea category, Soluciones Aeronáuticas de Galicia (Saega) was selected.