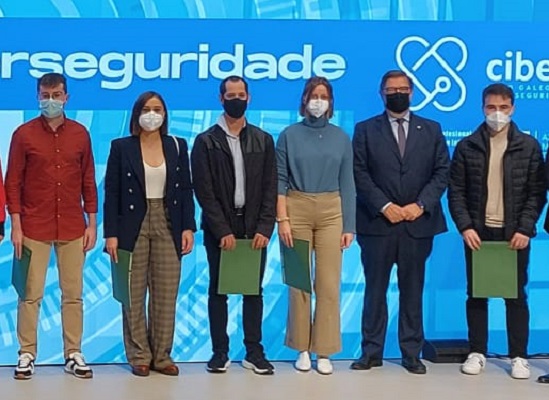 Tres de los premios Cátedra R en ciberseguridad del CIBER.gal recaen en trabajos dirigidos por investigadores del CITIC
El pasado jueves, 11 de noviembre, tuvo lugar la entrega de los premios Cátedra R en ciberseguridad que se otorgaron como colofón de la primera edición del evento CIBER.gal.
Se otorgaron cinco premios, tres de los cuales recayeron en trabajos dirigidos o realizados por investigadores del CITIC, fueron los siguientes:
Premio a la Mejor Tesis para Manuel Suárez Albela, por su tesis doctoral titulada "New secure IoT architectures, communication protocols and user interaction technolgies for home automation, industrial and Smart enviroments", que ha sido dirigida por el investigador del CITIC Tiago Fernández Caramés.
Premio al Mejor TFM para Lara Pallas Quintela, investigadora del CITIC, por su trabajo "Sistemas de verificación de autoría de e-mail mediante procesamiento del lenguaje natural usando software libre".
Premio al Mejor TFG para Adrián Martínez Bemposta por su trabajo Análisis pasiva de tráfico en redes de área local", dirigido por el investigador del CITIC Francisco Nóvoa Manuel.
La primera edición de CIBER.gal se celebró los pasados 10 y 11 de noviembre en la Cidade da Cultura de Santiago y estuvo organizado por CIBER.gal, nodo gallego de Ciberseguridad y en el que colaboró la cátedra interuniversitaria R en ciberseguridade de la UDC y la UVigo.
El evento contó con talleres, charlas divulgativas y paneles de debates. Tuvo como finalidad aportar valor a la ciberseguridad, trasladar el conocimiento en la seguridad de la información, impulsar la industria de la ciberseguridad, y fomentar la creación de talento.