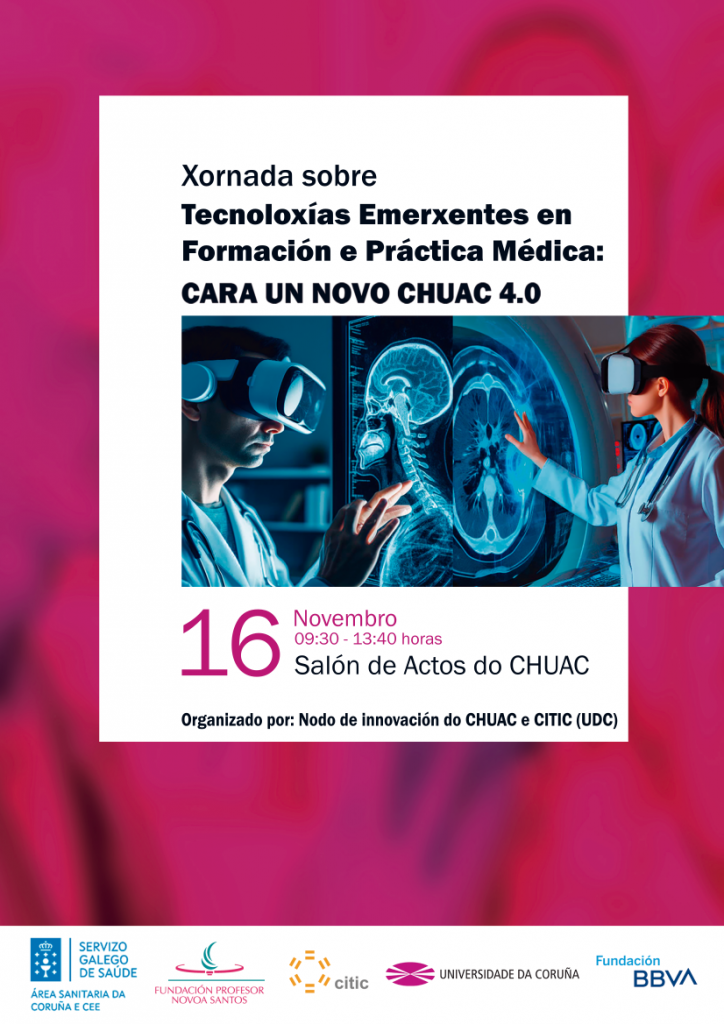 The CITIC of the UDC analyzes emerging technologies in training and medical practice in the conference "Cara un novo CHUAC 4.0"
The University of A Coruña's Center for Research in Information and Communication Technologies (CITIC) will play a leading role in the Conference on Emerging Technologies in Medical Training and Practice to be held next Thursday, November 16, at the University Hospital Complex of A Coruña (CHUAC).
The conference, entitled "Face a new CHUAC 4.0", will focus on highlighting advances in 3D printing and visualization, virtual reality and digital innovation in the healthcare field. CITIC's participation is evidence of its commitment to research and the application of cutting-edge technologies to improve medical training and practice.
The event, which will take place between 9:30 am and 1:40 pm, will begin with a presentation at 9:30 am by Luis Verde Remeseiro, manager of the A Coruña and Cee Health Area, and Julio Abalde Alonso, rector of the Universidade da Coruña.
The director of CITIC, Manuel González Penedo, will moderate the first block of content, where María Gloria Álvarez Caballero, from the 3D Simulation and Printing Platform, will address the generation of value from a central engineering and 3D printing service in the hospital environment.
Highlighting the connection between research and clinical practice, José A. Iglesias Guitián, researcher at CITIC, will present advances in real-time 3D visualization of CT scans at 10:15 am.
Next, Javier Pereira, deputy director of CITIC, will explore opportunities for inclusion through the use of virtual reality and 3D printing for personalized adaptation and communication, contributing to the Inclusive Talents project.
The second block of content, moderated by Pedro J. Marcos Rodríguez and Salvador Naya Fernández, will highlight the importance of digital innovation in healthcare. Juan A. Juanes Méndez, professor at the University of Salamanca and head of the Advanced Medical Visualization Systems Research Group, will share reflections on the application of mixed reality technologies in medical training and clinical practice at 12:15 pm.
The day will conclude with a presentation at 3:15 pm, focused on the practical experience of a virtual environment in immersive arthrocentesis, with the participation of rheumatology MIRs, medical students and family medicine MIRs from CHUAC.
The prominent presence of CITIC at the Conference on Emerging Technologies in Medical Training and Practice underlines the importance of collaboration between research and the clinical field to drive digital transformation in the healthcare sector.